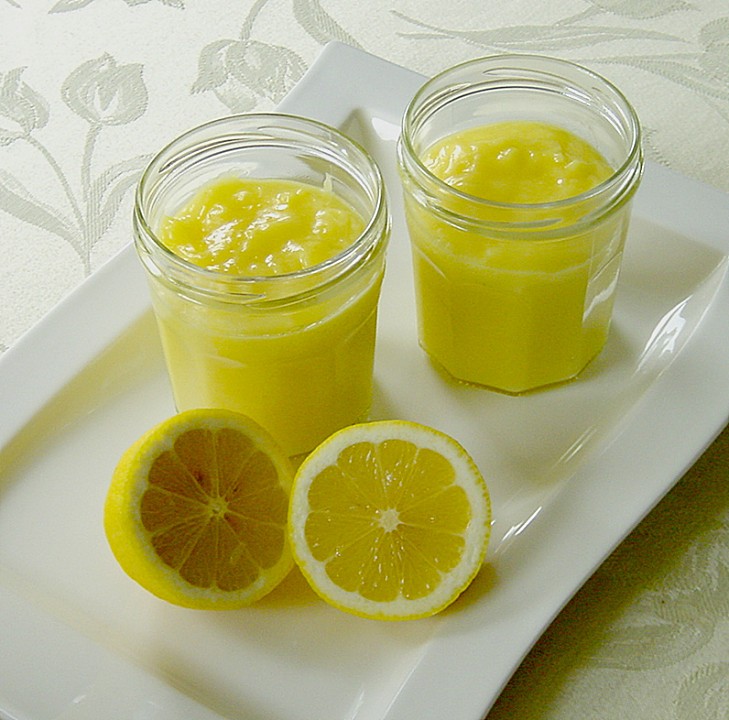 lemon curd
Ingredients :
3.00 large egg (s)
155.00 g sugar
75.00 ml lemon juice (from 3-4 lemons)
1.00 tbsp lemon zest, grated, heaped (from 3 lemons)
85.00 g butter "
Directions
Working time: approx. 25 min. / Difficulty level: normal / calorie p. P .: not specified
Rub the lemon peel and squeeze out the lemon juice. I now use a glass bowl so that you can whip it over a water bath. For this purpose bring some water in the pot to a boil, because later the bowl should not touch the water. In the glass bowl, mix the eggs, sugar, lemon juice and lemon with a whisk very well.
Boil the water, the mass over the water bath (the water should continue to cook for about 10 to 15 minutes very well.) The lemon curd then has a nice yellow color and is plump, take from the water bath, the sliced u200bu200bbutter after Stir in until it is completely melted and everything is well connected with each other Allow to cool to room temperature and then fill in jars .Store in the refrigerator, there it is closed with a lid over two weeks shelf life. The amount makes two jam jars full.